Replacing Hydro Floss machine parts can save you money over purchasing a new machine.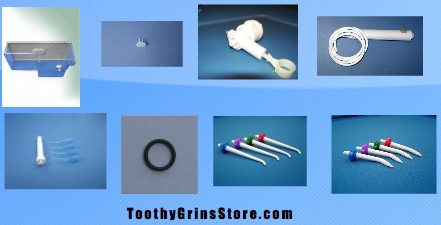 Hydro Floss Machine Parts Available
Replacing the Hydro Floss Machine's Reservoir or Tank is an easy fix. For example: It falls on a tile floor and shatters. Or, when you place something in it. For example: An additive that is either sticky or gritty.
The Hose and Handle come as a single unified unit. Therefore, they cannot be purchased separately. There is a video on replacing this part.
The o-ring for the tank or reservoir is beneficial when you don't need the whole reservoir. For example: If the o-ring is missing or loose, you can simply replace it.
The plastic insert or 'plug' for the reservoir. The problem: This item can easily come out without you realizing it and become lost.
Regular Replacement Tips
Sulcus Tip Replacements
Pocket Pal Tip Replacements
Cannula Tip Replacements with extender
The side mount tip holder.